We are a family owned business established in 1999.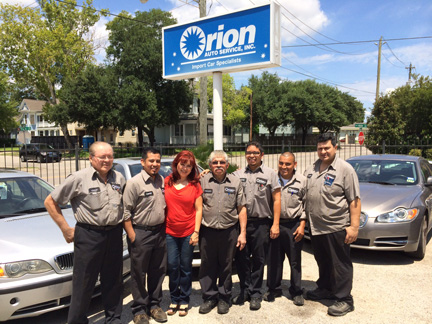 Orion's early beginnings date back to the early 90's, when current President of Orion, Francisco Soza began working for the company. Francisco has well over 40 years of experience working on Italian cars. As the lead tech at Orion Motors, Francisco handled mainly Alfas, Fiats and Jaguars back then. The business was acquired in 1999 and has since flourished into what is today a modern well-equipped service center. Throughout the years, customer demand has led us to expand to other foreign car makes. We are proud to be one of Houston's leading edge facility for the repair and service of Audi, BMW, Jaguar, Land Rover, Mercedes-Benz, Volkswagen, and Volvo.
At Orion, we are proud of the fact that we are small enough that we can treat our customers with a personal level of service, but big enough to have the necessary resources to service and repair today's comple modern European cars. We employ techs for the long run, who are committed to stand behind the company's commitment of excellence and understand the need for constant training in today's complex cars. Our customers benefit from the fact that our techs are not on a flat-rate pay system, but on a salary or hourly system. This means each job is handled in a timely manner, and not rushed to get the work done for the most flag hours, as in dealerships.
We are very passionate when it comes to working on the cars we work on. It's a passion we have developed over the years and a drive that is with us each and every day. This is what drives us to invest in factory diagnostic systems and tools so that the job can be done right, the first time.
Understanding our customer's needs and striving to meet and exceed expectations is our main priority. We invite you to stop by, even if it's just to say hello, and see for yourself what our longtime customers have discovered over the years.